Reading
At Alexandra Park Primary School, reading is at the heart of all we do. It is the foundation of all learning, essential to vocabulary development and helps to develop children's understanding of the world and other subjects. Books are embedded in our curriculum as stimuli for writing, information for subjects such as history, geography and science, engaging, thought-provoking books in our reading lessons as well as books to just enjoy at story time. These books are carefully selected to ensure children are exposed to a range of text structures, appropriate and challenging vocabulary, diverse characters, settings and authors as well as matching our school values. As new, high-quality literature is continuously being written, this offer is constantly evolving. 
The average number of children leaving primary school with the expected level of reading is 74% and it is estimated that 16% of the UK population are functionally illiterate. Poor levels of reading has a huge impact on both educational and life outcomes which is why we are so proud of the fact that at Alexandra Park, 86% of children met the expected standard in reading in 2022 and we will always aim for this figure to be 100% in future years. 

Reading is a complex skill that requires many elements to be brought together to ultimately understand what has been written. Our aim is to provide children with a high-quality reading education which enables them to be active, thoughtful readers who are equipped with the skills to read age-appropriate texts, are able to read to learn and who choose to read for pleasure. 

The model below shows the component parts of reading which are required to understand what we read. Our reading curriculum ensures that these elements are explicitly taught and the children have opportunities to practise.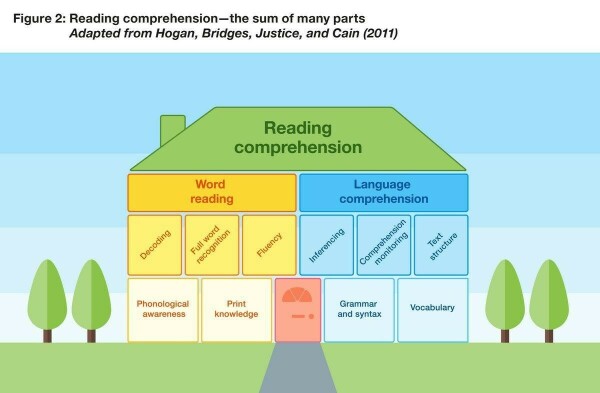 Your child will come home with a 'learning to read' book and a 'reading for pleasure' book. 
The 'learning to read' book is pitched at the appropriate level for your child to develop their word reading skills. It is essential that children read this book more than once as this is what leads to the automatic word recognition that is needed to become a fluent reader. Without being able to read fluently, it is impossible to comprehend what you have read. 

Your child will get stuck on some words when reading, this is OK because this is when they will practise their word reading skills. It is very important that children do not guess when they get stuck but use their phonic knowledge to help them sound out a word. If this doesn't work, you can then provide them with some prompts like telling them the sound-spelling they are stuck on. Please watch this video for more support on how to help your child when reading. If you have any further questions, please contact your child's class teacher via seesaw. 
Over the course of the year, we find lots of opportunities to celebrate reading. Every Thursday morning, we open up our KS1 hall to parents for Stay and Read. This is a great opportunity for parents, carers, grandparents, etc. to spend some time in the morning sharing a good book. 
We also take part in World Book Day which is held each year in March. This is a day dedicated to developing a love of reading. Children have the chance to share their favourite books, enjoy reading with other children and listening to authors and illustrators talk about their work. 
Paired reading - Once a half term, children from our juniors will pair up with children from the infants and share a book with them. This provides the older children with a purpose for their reading and provides young children with reading role-models.
As already mentioned, reading is a complex skill. In order to ensure that children receive a balanced reading education, our reading curriculum is mapped out from EYFS to Year 6. This ensures all elements of the National Curriculum are covered and that learning is built upon from one year to the next. Our reading progression map is available at the bottom of this page. 
At Alexandra Park, we value the importance of children being read to, especially during the stages of early reading development. From reception to Year 6, children choose a book from one of our school libraries to take home. These are books which you can share with your child at home, either by you reading it to them or just talking about what the book is about. All children across school are read to regularly in story time sessions which allow children to relax and enjoy being read to by an adult. Staff in school talk to children regularly about what books they enjoy and any wider reading they do. We discuss specific authors or book series which children like and ensure we reflect these in our selection of books in school. Children are also encouraged to recommend books to each other. 

We encourage parents/carers to read with their child regularly and this can be logged in their reading records which help us build up a picture of each child as a reader. Many teachers are parents themselves and know the challenges of getting children to read at home. To help, try to make reading fun, relevant and a habit. 
Fun - separate reading practise from reading for pleasure. Let them choose a book for you to read, find an audio book for them to get lost in, read a book that has been made into a film (read it before or after watching the film). 
Relevant - let them choose what to read (a blog, information, comics/graphic novels, magazines, web pages), find texts that are relevant to them. 
Habit - put aside a set time for reading, don't try and do other things at the same time, have family reading time where everyone spends time reading.
If you are having any difficulties with reading at home, please contact your child's class teacher via seesaw.