Learning Behaviours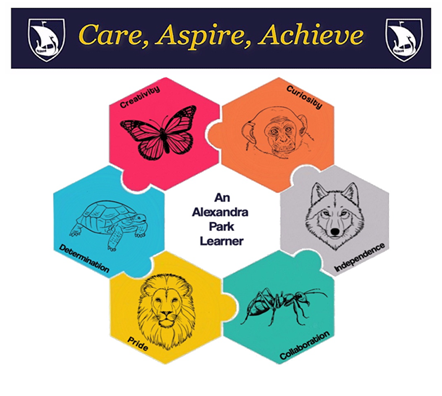 At Alexandra Park Primary School, we challenge and support our children to continually grow as learners and individuals. We are passionate about ensuring they have the skills, behaviours and confidence to adapt, think and create during their time in school and beyond. We work together to ensure all our children are happy, engaged and positive about their futures and  strive to be the best they can be every day.
Across the school, we have six different learning behaviours that we believe support children to become the best learners they can be. Each is part of a puzzle which we need to help children to develop -  when all parts click together, children will have the skills they need to Care, Aspire and Achieve throughout school and in their future lives. Each of our learning behaviours is represented by an animal and is illustrated with a story to help children understand what each learning behaviour looks like and the impact it can have. We have created examples of what each learning behaviour looks like and we regularly talk about this in class, our circle times, and in our assemblies.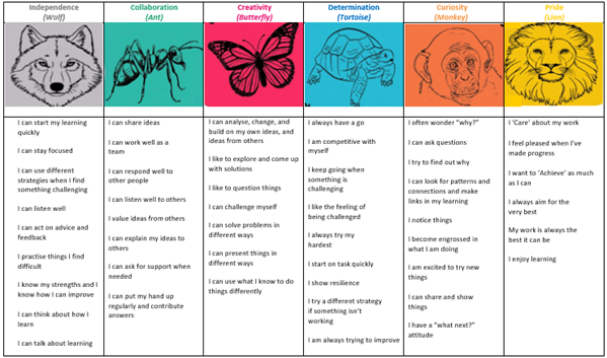 To be a successful learner, children need to develop key skills that will enable them to develop as happy, confident, motivated learners and achieve to their highest potential. We believe our six learning behaviours will develop skills and attitudes to learning that will put our children in the strongest position for the challenges they will meet in school and throughout their lives.
Linked to our school values…
Our school values of Care, Aspire, Achieve underpin everything we do. We are passionate about providing children with exciting learning opportunities that will develop knowledge and skills, both academic and social, and prepare our children to be happy and successful in school and in their future lives. Outstanding planning, teaching and design of our curriculum ensure children experience an inspiring, imaginative and innovative curriculum. Our focus on learning behaviours ensures a safe, yet challenging, atmosphere where children feel confident and self-motivated to take risks and become active and independent learners.
Recognising and rewarding good Learning Behaviours
When the children demonstrate our learning behaviours, they are recognised and rewarded by all members of our school community. Linked with our school values, children can earn ticks and stars towards their Care, Aspire and Achieve wristbands, and ultimately their Viking Award. Our Viking Award winners are role models to everyone across the school and are celebrated in a special assembly where they receive their award in front of their friends, classmates and even members of their family.
At home…
It is important that these skills and attributes are recognised and praised in as many different contexts as possible and we need your support to achieve this. We ask that you talk about our learning behaviours with your child and praise them when you see them demonstrating them at home, when out with friends and family, or anywhere else you can to encourage your child. Parents should be role models themselves and can help their child know clearly what each learning behaviour is all about. By continually showing all six learning behaviours, our children will become the very best learners that they can be.