Phonics
At Alexandra Park Primary School, we understand the importance of early reading. Through engaging with the latest research, constant reflection and ongoing training, we ensure that all children are given the best possible chance to succeed in reading and therefore in wider education. We teach phonics following the DfE validated systematic, synthetic phonics scheme, Monster Phonics. This scheme runs from EYFS to Year 2 as well as being used to support reading and spelling in KS2. All staff receive ongoing training in Monster Phonics in order to teach phonics with consistency and validity. 
Phonics is teaching the relationship between the sounds we make when we speak and the letters we use to represent those sounds. Through this process, children learn how to read and spell. 
When we speak, we use 44 sounds (phonemes) and the 26 letters of the alphabet (graphemes) are used to represent these sounds. There are about 175 different combinations of graphemes and phonemes. For example, the sound 'O' is spelt 6 different ways: o (no), o-e (home), oa (boat), ow (snow), oe (toe) and ou (though).
For a lot a parents, they can't remember being taught using this structured phonics approach and there is also a lot of new vocabulary which can make supporting your child a bit daunting. To support with this, there is a vocabulary sheet with all the key terms defined with examples. Phonics Vocabulary
Support with phonics at home has a huge impact on children's ability to learn more and remember more. Listening to your child read every day is the perfect way to help them practise their phonics. Your child will bring home a fully decodable book matched to their current phonics level. The more they read this book, the more fluently they will be able to recognise the sound-spellings and blend the sounds together. As they continue this process, words are then mapped into their long-term memory to enable them to automatically read words and therefore read fluently. This is an essential part of children's journey to become fluent readers who comprehend what they read. We ask that you listen to your child read at home as often as possible. This chart demonstrates the cumulative impact of daily reading on your child.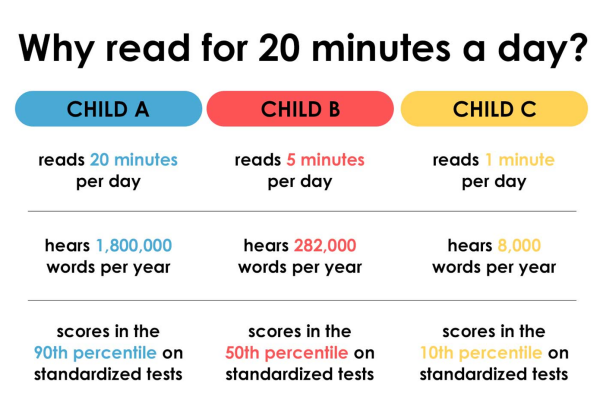 Please communicate with your child's teacher via the reading diary and/or seesaw to help us build a picture of your child's reading. 

Getting the balance right between developing positive attitudes towards reading and developing independent readers who persevere is a tricky balance to get right. Try not to help your child too quickly when they get stuck but provide prompts. Children should use their phonics knowledge to help them read words - they should not guess. Click here to watch a video on how to support your child's reading at home. 

As well as reading, you can support your child's phonics learning through playing games like: how many words can you think of that start with the 'e' sound (egg, elephant, excellent), finding rhyming words, spotting sound-spelling relationships in words when you are out and about (look the a in danger is showing us the A sound).
As mentioned above, listening to your child read as often as possible has a huge impact on on their reading development. However, to become a successful reader, there is more that needs to be developed other than the phonics needed to read the words. The comprehension house below shows all the different elements of reading that you need in order to understand what you read. Through sharing stories and talking about texts, you will be helping to develop your child's language comprehension. Your child will come home with a 'sharing book' that they have chosen from our library. Please read this with your child, enjoy it and talk about the story. If you would like more sharing books, please contact your child's teacher who will be able to help. 
Monster Phonics uses grapheme-phoneme correspondence as the first and foremost approach. It makes learning to read and spell through phonics easier, by categorising the 44 sounds into 10 categories, with each of these 10 categories being represented by a Monster and a colour. This makes learning to read and spell much easier and more fun. Not only does this accelerate the learning of phonics, the learning of high-frequency words, including common exception words, also becomes easier. 
The time that grapheme-phoneme correspondence, high frequency words and common exception words are introduced, taught and practised by children is carefully mapped out over the first 3 years of children's time in school. This considered mapping out ensures that children have the chance to pracitse what they have been taught, teachers can effectively assess for gaps and plan for intervention and opportunities for spaced retrieval are incorporated. 

Please click on the links below to view the progression maps for each year group.
Phonics is taught daily across EYFS and KS1. All children are taught the sound-spellings in order to read and spell and lessons involve teacher modelling and children practising blending to read and segmenting to spell. Children are also taught the key skills of phoneme isolation, blending, segmenting, phoneme addition, phoneme deletion and phoneme substitution. Phonics lessons are also used to support children as learners, developing their meta-cognitive skills and learning behaviours. Through teaching, children are taught to show determination, creativity, curiosity and independence in their reading and spelling. 

In order to ensure that our phonics teaching is of the highest possible standard, we ensure the following features are adhered to
Training - all staff receive high quality, ongoing training (both internal and external)
Responsiveness - learning and progress is continually monitored and teaching is focused to accelerate learning or provide extra support where identified.
Engagement - lessons are engaging and enjoyable for both pupils and staff.
Parental support - supporting parents and carers to support children's learning when practising their phonics at home. 
Your child's class teacher will keep you regularly updated on your child's progress in phonics and any extra support they are receiving. Assessments take place throughout the year and involves your children being asked to read the sounds, words and high frequency words they have been taught. This is done at an age-appropriate level and the children are not put under any pressure. 

At the end of Year 1, all children will complete the Phonics Screening Check (PSC). This is a national assessment, where children are asked to read 40 words which contain the phonics they have been taught. In order to assess their phonics and not just their word reading, some pseudo words are used. These are highlighted to the children and they are aware they are not trying to read a real word but are trying to use their phonics knowledge to sound them out and blend the sounds together. This is something that the Year 1 teachers are able to prepare the children for and is again, done in a low pressure, age-appropriate way. 
The results of the PSC are communicated with parents alongside the end of year reports.